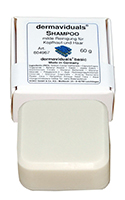 Shampoo
Solid shampoo 60g
Gentle cleansing for body, scalp and hair. For all skin types.



Composition: The shampoo bar contains a completely biodegradable surfactant (Sodium Cocoyl Isethionate), physiological stabilizers (Behenyl Alcohol, Glyceryl Behenate, Glyceryl Stearate, Glyceryl Caprylate) and the antistatic agent Guar Hydroxypropyltrimonium Chloride (derivative of a naturally occurring substance). Diammonium Citrate enhances the solubility of the surfactant. Kaolin contributes to the cleansing effect. Triglycerides and jojoba, sunflower and acacia waxes support the skin caring properties.

INCI: Sodium Cocoyl Isethionate, Caprylic/Capric Triglyceride, Behenyl Alcohol, Kaolin, Jojoba Esters, Diammonium Citrate, Glyceryl Behenate, Glyceryl Stearate, Polyglycerin-3, Guar Hydroxypropyl-trimonium Chloride, Glyceryl Caprylate, Acacia Decurrens Flower Cera, Helianthus Annuus Seed Cera, Aqua

Properties: In spite of ideal foaming and high soil suspending the shampoo bar has an excellent tolerability for body, scalp and hair. The product is in general appropriate for sensible scalp and scalp problems.
The antistatic conditioner ensures an easy combability and a pleasant smooth hair feel.
It's a long way product and leaves no unpleasant residue with hard water.

Application: Either the shampoo bar is rubbed directly on the wet hair or it is foamed up between hands. After rinsing the hair it can be dried as usual.

Shelf life: 24 months at appropriate storage conditions unopened.