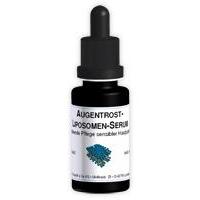 Augentrost-Liposomen-Serum
Eyebright liposome serum 20ml
Revitalising care of sensitive skin areas.


Composition: Eyebright extract - encapsulated in liposomes.

INCI: Aqua, Alcohol, Pentylene Glycol, Glycerin, Lecithin, Sorbitol, Euphrasia Officinalis Extract, Disodium Phosphate, Potassium Phosphate, Xanthan Gum.

Properties: The liposomes are rich in essential fatty acids. The components of the eyebright extract penetrate intensely into the horny layer and show refreshing and revitalizing efficiency.

Application: Additive for DMS® base creams. Local skin treatment by applying the pure concentrate.

Shelf life: 24 months at appropriate storage conditions unopened.