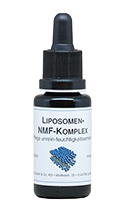 Liposomen-NMF-Komplex
Liposome NMF complex, 20ml
Care of blemish-prone and acne skin; improving skin hydration.


Composition: Highly enriched phosphatidylcholine (PC) and natural, moisturizing substances in liposomal dispersion.

INCI: Aqua, Pentylene Glycol, Serine, Glycerin, Alcohol, Glycine, Sodium PCA, Lecithin, Alanine, Sorbitol, Urea, Sodium Lactate, Creatine, Lactic Acid, Disodium Phosphate, Potassium Phosphate, Xanthan Gum.

Properties: The liposomes are very rich in essential fatty acids and thoroughly penetrate the uppermost skin layer. They increase the water absorption capacity of the skin.

Application: Additive for DMS® base creams for the treatment of dry to normal skin with a tendency to blemished skin.

Local skin treatment by applying the pure concentrate.

Remarks: The concentrated active agent should be applied sparingly to the skin similar to dabbing in an ampoule product.

Liposome concentrates increase the effectiveness of the different components of a cream and, if applicable, also the effect of skin pre- and follow-up treatments as it improves penetration of other substances.

Shelf life: 36 months at appropriate storage conditions unopened.