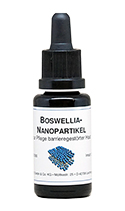 Boswellia-Nanopartikel
Boswellia nanoparticles, 20ml
For care of barrier disordered skin. Extract for the supporting care of hyperactive and barrier disordered skin.


Composition: Active agent complex of boswellia serrata extract (frankincense extract), phytosteroles and highly enriched phosphatidylcholine (lecithin) in aqueous nanoparticles dispersion.

INCI: Aqua, Olea Europaea Fruit Oil, Alcohol, Lecithin, Glycerin, Boswellia Serrata Extract, Persea Gratissima Oil, Urea, Xanthan Gum, Tocopheryl Acetate, Phytosterols, Olea Europaea Oil Unsaponifiables.

Properties: Nanoparticles stabilize boswellia serrata extract (frankincense extract) in high dosage and transport the active agent into the skin. Frankincense extract inhibits proteases and the 5-lipoxygenase, a key enzyme of inflammation processes. Frankincense encapsulated in nanoparticles is not only used for antiaging skin care, but also for accompanying care of inflamed skin disorders and especially actinic keratoses. Phytosteroles support the care of barrier disordered skin.

Application: Additive for DMS® base creams. Local skin treatment by applying the pure concentrate.

Remarks: The concentrated active agent should be applied sparingly to the skin similar to dabbing in an ampoule product.

Shelf life: 36 months at appropriate storage conditions unopened.