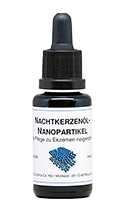 Nachtkerzenöl-Nanopartikel
Evening primrose oil nanoparticles, 20ml
For skin with barrier disorders. Product with high content of gamma-linolenic acid.


Composition: Evening primrose oil and highly enriched phosphatidylcholine (PC) incoporated in aqueous nanoparticles.

INCI: Aqua, Oenothera Biennis Oil, Alcohol, Pentylene Glycol, Glycerin, Lecithin, Sorbitol, Tocopherol, Ascorbyl Palmitate, Ascorbic Acid, Caprylic/Capric Triglyceride, Xanthan Gum, Citric Acid.

Properties: Encapsulating the evening primrose oil, which is rich in gamma-linolenic acid, in nanoparticles preserves the effectiveness for a long time. Furthermore, this method ensures an optimal transport into the skin. It regulates transepidermal water loss and increases skin hydration.

Application: Additive to the DMS® base cream. The evening primrose oil helps persons suffering from atopic skin to balance the lack of gamma-linolenic acid and, accordingly, has a prophylactic effect. Evening primrose oil nanoparticles are recommended for low-fat skin as well as for blemished skin. As a local skin treatment by applying the pure concentrate.

Remarks: The concentrated active agent should be applied sparingly to the skin similar to dabbing in an ampoule product.

Evening primrose oil nanoparticles and products containing evening primrose oil nanoparticles should not be applied to sun-exposed skin because this will induce a fast decline of evening primrose oil activity. Best results are achieved when the products are applied in the evening.

Shelf life: 18 months at appropriate storage conditions unopened.