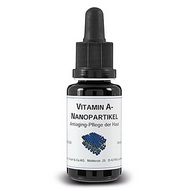 Vitamin A-Nanopartikel
Vitamin A nanoparticles 20ml
Regenerating care for mature skin. Anti-aging skin care. Vitamin A supports the regeneration of mature skin.


Composition: Active agent complex with vitamin A (6000 IU/g) and highly enriched phosphatidylcholine (PC) in aqueous nanoparticles.

INCI: Aqua, Pentylene Glycol, Glycerin, Sorbitol, Olea Europaea Fruit Oil, Alcohol, Retinyl Palmitate (6.000 IE/g Vit. A), Tocopherol, Ascorbyl Palmitate, Ascorbic Acid, Lecithin, Caprylic/Capric Triglyceride, Xanthan Gum, Citric Acid.

Properties: Nanoparticles stabilize vitamin A in particularly high dosage and optimally transport the active agents into the skin. Vitamin A supports the collagen formation and promotes the regeneration of the skin. Vitamin A is also recommended for the treatment of prematurely aged skin due to UV influence.

Application: Additive for DMS® base creams for the treatment of mature skin. Local skin treatment by applying the pure concentrate.

Remarks: The concentrated active agent should be applied sparingly to the skin similar to dabbing in an ampoule product. The use of Vitamin A nanoparticles should not exceed 2 ml per day and person.

Vitamin A nanoparticles and products containing vitamin A nanoparticles should not be applied onto sun-exposed skin as this will induce a fast decline of Vitamin A activity. Best results are achieved when the products are applied in the evening.

The BfR (Federal Institute for Risk Assessment) recommends in the report no. 005/2014 from 31 January 2014 limiting vitamin A on the face and hand care.

Shelf life: 18 months at appropriate storage conditions unopened.