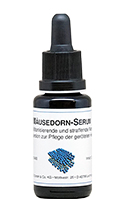 Mausedorn-Serum
Butcher's broom serum, 20ml
Toning and smoothing nano dispersion for care of reddened skin.


Composition: Nanoparticular dispersion of butcher's broom extract, phytosterols and native phosphatidylcholine.

INCI: Aqua, Alcohol, Pentylene Glycol, Glycerin, Lecithin, Sorbitol, Ruscus Aculeatus Root Extract, Squalane, Phytosterols, Ceramide NP, Tocopherol, Ascorbyl Palmitate, Ascorbic Acid, Olea Europaea Fruit Oil, Olus Oil, Cocos Nucifera Oil, Hydrogenated Lecithin, Persea Gratissima Oil, Caprylic/Capric Triglyceride, Olea Europaea Oil Unsaponifiables, Xanthan Gum, Disodium Phosphate, Potassium Phosphate, Citric Acid.

Properties: Butcher's broom extract contains ruscin, ruscogenin and neo-ruscogenin, as well as the alkaloid spartein. Just like vitamin K that is no longer permitted in cosmetic products, the extract stabilizes the superficial blood vessels. Thus it is the appropriate care for reddened and swollen skin, even in the eye area. It strengthens the vessels and smoothes the tissue.

The product can be combined with:
Liposome concentrate Plus: activity and size of sebaceous glands are stabilized
Echinacea extract: care for skin prone to teleangiectases
Application: Additive for DMS® base creams. Local skin treatment by applying the pure concentrate.
Remarks: The concentrated active agent should be applied sparingly to the skin similar to dabbing in an ampoule product.
Shelf life: 36 months at appropriate storage conditions unopened.