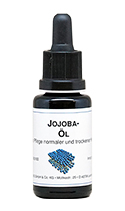 Jojoba-Öl
Jojoba oil, 20ml
Oil for all skin types.


Composition: Jojoba oil consists of wax esters.

INCI: Simmondsia Chinensis Oil (100%).

Properties: The oil is colorless or of pale yellow color. The precious oil leaves a velvety effect on the skin without feeling greasy.

Application: Additive for DMS® base creams for the care of dry and normal skin. Skin care with the pure oil product. Oil massage.

Remark: The oil is slightly dabbed onto the skin and spread.

Shelf life: 36 months at appropriate storage conditions unopened.