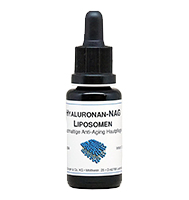 Hyaluronan-NAG Liposomen
Hyaluronan-NAG liposomes 20ml
For the care of damaged, sensitive, dehydrated skin. For active hydration and anti-aging.


Composition: N-Acetyl-glucosamine (NAG), highly dosed hyaluronic acid (hyaluronan) and physiological membrane constituents in a liposomal dispersion. The product contains hyaluronic acid (Hyaluronan) which is manufactured by biotechnology. It has a molecular weight of approx. 2 MD (2 MegaDalton).

INCI: Aqua, Alcohol, Methylpropanediol, Pentylene Glycol, Panthenol, Glycerin, Phosphatidylcholine, Sorbitol, Acetyl Glucosamine, Simmondsia Chinensis Seed Oil, Hydrogenated Phosphatidylcholine, Butyrospermum Parkii Butter, Ceramide NP, Sodium Hyaluronate, Caprylic/Capric Triglyceride, Squalane, Hydroxypropyl Starch Phosphate, Xanthan Gum, Disodium Phosphate, Potassium Phosphate.

Properties: N-Acetyl-Glucosamin (NAG), a natural fragment of hyaluronic acid (hyaluronan), stimulates the endogenous formation of hyaluronic acidand supports the turgor of the connective tissue. The turgor has adecisive influence on the elasticity and tightening of the skin. Externally applied hyaluronic acid (hyaluronan) forms a permeable, moisture-retaining film with wrinkle-reducing and plumping effect dueto the hydrogen bridge linkage with the keratin of the skin. Togetherwith NAG an increase of skin moisture and a visible wrinkle reductionare obtained. Liposomes enable the transport of NAG through the skin barrier,whose membranes consist of physiological phosphatidylcholine. D-Panthenol (provitamin B5) also supports the transport of NAG andsimultaneously has regenerative effects – among others through astimulated epithelialisation. Barrier-affine ceramides and sebum-related lipids additionallygenerate a sustainable skin care effect.

Application:

Remark:
The active agent concentrate should be applied sparingly to the skin similar to dabbing in an ampoule product.
When using it as an additive for the 44 ml DMS base cream unit, start with a low dosage, especially in case the skin care is just being adapted from preparations containing mineral oils and emulsifiers to DMS products.
To be used for skin treatment only. Avoid contact with mucous membranes and eyes. In case of irritations, rinse with water.
Shelf life: 24 months at appropriate storage conditions unopened.