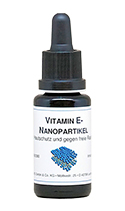 Vitamin E-Nanopartikel
Vitamin E nanoparticles, 20ml
Protect the skin and support cell formation, for all skin types. Highly concentrated vitamin E.


Composition: Vitamin E and highly enriched phosphatidylcholine (PC) in aqueous nanoparticles.

INCI: Aqua, Tocopheryl Acetate, Alcohol, Pentylene Glycol, Glycerin, Lecithin, Sorbitol, Xanthan Gum.

Properties: Nanoparticles stabilize vitamin E in particularly high dosage and optimally transport the active agents into the skin. Vitamin E protects the skin against radicals and reduces the noxious influence of ultraviolet rays. In addition, vitamin E supports epithelialization (cell formation) of the skin. It also improves skin hydration.

Application: Additive for DMS® base creams for the care of mature skin. Local skin treatment by applying the pure concentrate.

Remarks: The concentrated active agent should be applied sparingly to the skin similar to dabbing in an ampoule product.

Shelf life: 30 months at appropriate storage conditions unopened.